What are Laser Skin Treatments?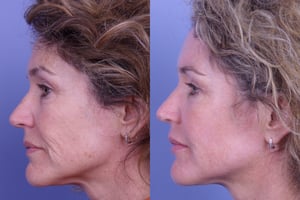 Lasers are amazing high-tech tools that can do many things to help us improve the appearance and condition of our skin.
Using gentle, precisely-targeted beams of intense light or heat lasers resurface skin and stimulate production of new skin cells. The result is a smoother, fresher, more youthful appearance. Lasers can also target and kill hair follicles to eliminate excessive or unwanted hair anywhere on the body. We can also use lasers to target and eliminate bulging veins such as those that appear on the backs of our hands as we age.
Laser skin treatments work well for adults of all ages, men as well as women. That said, not all types of lasers are equally effective for those with darker skin. But don't assume lasers aren't for you, because effectiveness depends on your specific skin as well as the condition you want to treat. Since lasers are so valuable in so many instances, it pays to learn more.
Thanks to the versatility of laser technology, we can use laser skin treatments to safely and effectively address issues on virtually any part of the body. And we can precisely target the treatment areas to zero in on tiny spots such as toes and earlobes or tackle large areas such as the legs, chest, or back. And, of course, laser skin treatments can work beautifully on all or just part of your face.

What else is so great about laser skin treatments?
Lasers work fast, so treatments are short. You can schedule an appointment without disrupting your day. Depending on the area you're having treated, your session may take just a minute or two, and even if we're doing hair removal on your entire back it'll likely take less than an hour.
Pain is minimal. In some cases, you may feel a slight "snapping" sensation, but maybe not even that. Depending on your type of procedure and the area being treated, we may apply a topical anesthetic first. And some types of laser procedures automatically incorporate surface cooling.
There is usually no downtime. Laser skin treatments are often referred to as "lunch hour" procedures, and for good reason! Often, you can literally drop in for a session, then head right back to work, your midday run, taking the kids to soccer practice, or whatever your lifestyle calls for. However, some laser treatments will produce slight swelling, itching, redness, or discomfort initially, but that will last just a day or two. And, after certain treatments, you'll want to avoid makeup for a couple of days.

Safety first with Laser Skin Treatments
As wonderful as laser skin treatments can be, these procedures should not be taken lightly. While lasers are very broadly useful to help improve skin condition and appearance, they do use heat or very intense light to do their work. In the wrong hands, they can be dangerous, damaging skin instead of improving it.
Laser tools that can provide safe, effective skin treatments are medical grade equipment. Using them requires extensive training, medical knowledge, and experience -- to ensure your safety as well as produce the optimal, positive results you hope for.
Jeffrey Raval, MD, MBA, FACS is the owner of Raval Facial Aesthetics and is one of Denver's most-respected facial plastic and cosmetic surgeons. Within our practice here at Raval Facial Aesthetics, each of our Paramedical Aestheticians has received advanced training and is highly-qualified in the use of lasers. All laser treatments are performed in our office, to provide maximum convenience and comfortable surroundings for clients.
Because every person's skin is different, every procedure we perform is individually tailored – and, of course, individual results may vary. So the first step is always a personal consultation with each client. That gives us a chance to discuss your aesthetic goals and determine which laser skin treatment option will be best for your skin type, condition, and desired results.
Types of Laser Skin Treatments
Here at Raval Facial Aesthetics, we offer several types of laser skin treatments. That enables us to choose the best tool for the job, based on your specific challenges, desires, and skin.

Intense Pulsed Light (IPL)
IPL is gentler than other types of lasers, but it packs a punch when it comes to reversing sun damage and signs of aging such as dark spots and freckles. That's because intense pulsed light lasers deliver short bursts of high-intensity light below the skin's surface. The light targets and breaks up colored pigments, which are then absorbed naturally by the body.
The procedure is not painful, but to ensure complete comfort, we apply a cooling gel or numbing cream to the target area prior to starting treatment. Because the light emitted by this type of laser is broad-spectrum, we can also use IPL to treat a number of skin issues other than dark spots, such as fine lines and wrinkles, redness, and enlarged pores. We can address these various issues together, in a single treatment session.

Microlaser Peel
This is a great choice if you want to correct age-related fine lines or deep wrinkles but cannot afford much time. Unlike chemical peels, which are can be harsh and require longer recovery time, a microlaser peel is a "kinder and gentler" alternative. Yet, because the microlaser can be individually tailored for each patient, we can use it to deliver the level of resurfacing results you want to achieve. And results are also beautifully consistent across the treatment area.
In addition, there is virtually no discomfort with a light microlaser peel. Treatment is quick and results are immediate. While we typically use microlaser peel to reduce signs of aging by restoring firmer, smoother skin, this type of laser skin treatment is also effective for refining the visible appearance of scars.

ProFractional
This style of laser treatment can significantly improve overall skin tone and texture, by reducing the appearance of lines, wrinkles, scars, and other imperfections. The ProFractional technology is different in that, while the laser delivers thousands of micro-beams as other lasers do, the beams are targeted to only a fraction of the skin within the treatment area rather than the entire surface. (Think of it as something like a pixelated photo.)
This fractional delivery system triggers production of new collagen and cells in the targeted areas without disturbing surrounding cells. The result is a more comfortable procedure and faster healing. ProFractional treatments can produce smoother, younger-looking skin and work best for the face, neck, chest, and hands. Treatment sessions don't take much time, so they are convenient to schedule. However, Dr. Raval usually recommends up to four sessions to achieve optimal results.
Triple Peel (IPL + ProFractional + Microlaser Peel)
Can't decide which laser treatment might be best for you? Choose our Triple Peel, and you don't have to choose just one treatment! Because each type of laser tool works in a somewhat different way, we often recommend a combination of laser treatments to help patients get the best, most personalized results possible.
However, we also created the "ultimate" combination – our Triple Peel – that includes all three treatment types. Your skin can enjoy the specific benefits of Intense Pulsed Light, ProFractional, and Microlaser Peel, yet surprisingly, the entire three-step procedure takes just one session. Downtime is minimal, too.
SkinTyte
This is a broadband light, or BBL, laser skin treatment that is safe and effective for all skin types. It uses advanced infrared light technology that heats collagen in deeper skin tissues. This stimulates production of new collagen and new cells, and the result is firmer, smoother, more youthful looking skin. Surface cooling ensure that the SkinTyte procedure is comfortable, so we don't even need to use a topical anesthetic. The treatments take little time, and there is no downtime.
Any of these laser treatments can also be combined with other non-surgical procedures (Botox injections, for example) as well as specialized skin care products, to enhance long-term results and help protect the skin.
Laser Skin Treatment for Acne Scars
Many of us associate acne with the teenage years, but the truth is that acne can often stay with us for a lifetime. Even if we don't continue to have outbreaks, we have visible scarring, which can even be disfiguring. It's frustrating, and for many people, it damages our self-image and confidence. Whether you have a few not-so-obvious scars or severe surface texture and discoloration problems, laser skin resurfacing can be significantly improve your acne scars. And laser treatments work without the harshness of dermabrasion or invasive options.
Lasers address acne scars in two ways. On the surface, intense light or heat exfoliates skin cells. Below the surface, beams go deeper to create "mini-wounds" that trigger the body to produce new collagen and cells. The exfoliated surface cells slough off, revealing fresh skin, and the newly produced cells and collagen fill in pits and depressions created by acne to produce a smoother surface. Meanwhile, the laser treatment can also address other visible imperfections caused by sun damage. So the overall result is skin that is clearer and healthier looking.
You'll be able to see results right away, but your skin will also continue to produce new cells and collagen over time, for even greater improvement. Treatment sessions for acne scarring are relatively short, ranging from just a few minutes up to an hour or so depending on the size of the targeted area and the severity of scarring. There is minimal downtime. Most acne scars require several treatment sessions to achieve the best possible results. Normally, we schedule these about two weeks apart, to give your skin a chance to calm before the next session.
It's important to remember that there are different types of acne scars, because we approach treating them in different ways. Some scars are relatively or moderately shallow, others extend deeper into the skin tissue to form deeper depressions, and still others are what we call "ice pick" scars because they are deep and very narrow as if made by an ice pick. Although laser skin treatment can be useful to diminish any of these types of acne scars, other options may produce better results when scars are deep.
Laser skin treatments can make a real difference when it comes to refining acne scars, and treatments can be appropriate for those in their late teens and young adults as well as those who are older. However, we cannot use lasers on active acne. So, regardless of age, you will have to wait until your acne is in remission or has cleared up before treating your skin to a resurfacing regimen.
Benefits of Laser Skin Treatments
One of the many reasons laser technology is so popular is that lasers are so versatile. There are different types of laser tools, designed to address skin conditions in different ways. That means laser skin treatments can be highly effective to help you achieve superficial skin resurfacing and also to treat issues that reach deeper below the surface.
Not surprisingly, many of our patients are most interested in reversing or reducing visible signs of aging. Dark spots, fine lines, and wrinkles develop as we get older and also from exposure to the sun. Skin loses its firmness and looks dull and tired. But you're still healthy and active, and you want to look as good as you feel! Laser skin treatments can do wonders to minimize or even eliminate imperfections caused by age and too much time in the sun without sunscreen.
But lasers can do more than help you turn back the clock. They can significantly improve your skin's appearance in many other ways as well. So you might consider laser skin treatment for any or all of these reasons:
Plump or tighten skin
Smooth fine lines and wrinkles
Reduce brown or red age spots
Minimize acne scars
Remove spider veins and bulging veins
Remove unwanted hair
Improve overall skin tone and texture
Laser skin treatments are user-friendly, too. Treatment sessions are very short, with minimal discomfort and little to no downtime for recovery. In most cases, a series of treatments (typically anywhere from 2 or 3 to 6 or 7) is recommended to achieve the best results. Dividing treatment into increments like this enables us to help you achieve maximum results without subjecting your skin to overly intense treatment or requiring restrictive downtime.
We usually space sessions a few weeks apart, which gives your skin a chance to relax, recover, and begin the renewal process before the next treatment. This also gives you maximum flexibility in scheduling, so follow-up appointments never interfere with your work or personal time. We know you're busy.
But it gets even better, if anti-aging is your goal. Adults of all ages have discovered that Botox injections can help prevent formation of new facial wrinkles as well as smooth the appearance of existing ones. So for those who want to regain or maintain a youthful appearance without a facelift, combining Botox and laser skin surfacing treatments can be an ideal solution with double the benefits.
You can achieve firmer, fresher skin tone and texture from the laser treatments and sub-surface preventive maintenance with regular Botox injections. Now you really can look as youthful and vibrant as you feel!
The Power of the Sciton Laser
Powerful tools provide the most powerful results, whether you're looking for subtle improvement or dramatic difference in your skin's appearance. That's why our Raval team uses the Sciton family of professional laser skin treatment tools. These are the most advanced laser and light devices, available only to physicians and aesthetic medical practices. They are, simply, the gold standard.
The Sciton laser is computer controlled, it automatically scans the treatment area during the procedure, helping us work with maximum precision, for both surface ablation and deeper treatment. That makes it easy for us to individually tailor each treatment to match your skin, its condition, and the outcome you desire. You can achieve optimal results, whether subtle or dramatic. Not too little, never too much.
Why do we choose the gold standard? Because our patients deserve the best, of course. But there is another important reason. Frankly, lesser quality tools produce lesser results, and they increase risk. As medical professionals, that's the last thing we want.
You may also have noticed new laser spas opening up, thanks to the tremendous popularity of skin rejuvenation treatments among both women and men. Choice is great, but it is crucial to remember that all providers are not equal. And as a patient, you should know that when it comes to laser skin treatments, you get what you pay for. Anyone who tells you all laser treatments (or providers) are pretty much the same does not have your best interests at heart.
You may also have seen at-home laser tools that supposedly do "just as good a job" as a professional laser skin treatment. Obviously, that is not possible. Over-the-counter devices cannot produce the same type of results as medical grade equipment designed for professional use. If you choose to "economize," you can count on getting poor to mediocre aesthetic results.
And you may get unintended results you definitely do not want such as burns and even permanent scarring – either because the device was not quite up to the job or the person using it was not adequately trained. In unskilled hands – yours or someone else's -- lasers can be very dangerous.
Our Raval team uses the highest-quality medical grade tools because we want you to get great results but your safety and comfort are our #1 priority. We use Sciton's gold standard laser tools and we back them up with medical knowledge, extensive training and the precision skill that comes with experience.
With all that, however, the ultimate power behind every laser skin treatment is you. Because everyone is different and every procedure is personally customized, the first step toward skin rejuvenation is always a personal consultation where we can meet with you face to face. You can ask more questions, we can ask about your medical history and aesthetic goals, and together we can decide if one of our laser skin treatment options is right for you.
How Long Before I See Results From Laser Skin Treatments?
Results are what it's all about, so naturally you want to see changes soon. We understand! The good news with laser skin treatments is that you will see results right away. You won't have to wait to remove bandages or for swelling or bruising to go away, although with some treatments your skin may look a little sunburned at first. So whether your goal is reversal of fine lines and wrinkles, reduction of acne scarring, or removal of unwanted hair, you will be rewarded immediately.
But you won't see the final results right away.
Most laser skin treatments produce the best results with multiple sessions. You may need just a couple or you may need several treatment sessions, depending on your specific procedure and goals. After each appointment, though, you will see increasingly more visible results. And, for treatments that stimulate natural production of cells and collagen, your skin will continue to improve on its own.
What Results Will I See with Laser Skin Treatments?
Just how different will your skin look after a series of laser skin treatments? That's a very individual question, of course. However, you don't have to just take a chance and see what happens. You can get a good idea about results through research about various treatment options and by asking lots of questions. But one of the best ways to get a realistic picture of your own potential results is to look at our before and after photos.
Here on our Raval website, you will find a photo gallery that displays pictures of real patients who have taken advantage of all sorts of laser skin treatments. Men and women of all ages, with every type of reason for coming to us to help in improving their skin's condition and appearance. The best examples to look for are people who are most like you – in age, gender and, especially, with similar skin concerns.
If you have darker skin, pay special attention to the photos of folks who also have darker skin. New laser technologies have greatly improved our ability to help a wider range of people with all types of skin improvement goals.
Ultimately, a personal consultation will help you learn whether you're a good candidate for the type of laser skin treatment you want, and also what results you can expect.
How Long Do the Results of My Laser Skin Treatment Last?
You remember our mantra – individual results may (probably will) vary. That's true because every one of us is different. Your unique skin, skin condition challenges, and ultimate goals determine which type of laser skin treatment is best for you. Those factors affect your results, too, as well as how long your results will last. But, it's all good.
As we've already noted, laser skin treatments produce immediate results, with optimal improvement over time as you have multiple treatment sessions. Beyond that, duration of your results depends on the type of treatment.
With laser hair removal, for example, once you have completed your series of treatments, results are virtually permanent. You may see a few hairs re-emerge at some point in the future, but we can easily take care of that. So you're good to go, with smooth hair-free skin. If we're treating bulging veins, those results will be permanent, too. That's not to say you won't see the same problem somewhere else, but if you do, we can treat that separately.
If your goal is facial revitalization to counter the effects of aging, laser skin treatments can give you exciting, impressive results. But no one can stop your body from aging, and the effects of daily living (sun, wind, exposure to environmental pollutants, etc.) will continue to take a toll on your skin. As that happens, you will always have the option of returning for another session or series of facial skin rejuvenation treatments.
Am I a Good Candidate for Laser Skin Treatment?
Almost every man or woman is a good candidate for laser skin treatment of some kind, and there's no real age limit on looking better. If you're searching for a relatively simple, non-surgical procedure that can revitalize your skin with little to no downtime, laser skin treatment may be an excellent choice. The same holds true if you want to get rid of excessive or unwanted hair or get rid of visible veins just below the skin's surface.
We've noted that not all types of lasers work equally well for all skin types and colors, but advancements in technology now give us a far greater array of options than in the past. We strongly encourage anyone who wants to improve the appearance of their skin to learn more about laser skin treatment.
Since laser procedures should be considered medical treatments, it is especially important to schedule an initial consultation with one of our Rocky Mountain Laser Aesthetics team members. During this private meeting, we will talk with you about your medical history as well as your skin improvement goals. We will also evaluate your skin type and condition, and then we can recommend a personally-tailored treatment plan, whether that will require just one session or more than one.
Laser Skin Treatment Cost
Every patient is different in every way – your skin, your aesthetic challenges, your desired results, and your recommended treatment plan. Therefore, your cost will not be exactly the same as someone else's. In general laser skin treatments can run from $350 for a single session to $1,500 or more for a series of treatments. However, prices are subject to change with time, unique circumstance or procedure type.
During your personal consultation, we will discuss pricing along with treatment options, so you will know the cost before you make a final decision. We also encourage you to contact our office with questions about costs of a specific type of procedure, and to check out current special offers listed on our website.
Choosing the Right Laser Skin Treatment and Specialist
We've mentioned more than once that laser skin treatments are a medical procedure, not something to be undertaken lightly, from just anyone, anywhere. No laser treatment is right for you if it endangers your health and safety or is likely to produce a less-than-desirable aesthetic result. In short, it takes the right provider to give you the right results, and that's a matter of trust.
Our Raval team takes tremendous pride in the quality of the service and personal care we provide and the reputation for excellence we have earned. Your safety is always our top priority, because we want you to love your results. We use the latest advanced equipment. Our medical aestheticians are well-trained and well-experienced using the laser skin treatment techniques we offer. Dr. Raval himself is a well-known, double board-certified plastic and cosmetic surgeon who specializes in facial surgery.
Plus, we're nice. We take our work and your skin very seriously, but our office is a friendly, comfortable place.
When you visit us, you get the full value of our comprehensive training, experience, and a wide array of skin revitalization treatment options. And you get something more. We use Visia® high-tech skin mapping to show you the condition of your skin, in far greater detail than you can see with the naked eye. It's not only informative, it's just plain cool. We include Visia® scans at no charge when combined with other procedures.
Conclusion
Are laser skin treatments right for you? They can do many wonderful things for many people. Skin that looks younger, fresher, smoother, firmer, and healthier. Excessive or unwanted hair gone, virtually for good. Bulging or spider veins safely removed and out of sight. Whether you want it all, or simply want to address one specific issue, large or small in size, laser treatment may be the ideal solution.
But there are many factors that go into choosing a skin improvement treatment, not only your aesthetic goals but your skin type, even your lifestyle. Ultimately, the only way to know whether lasers are your best choice or which type of laser treatment will be best is to sit down with a member of our Raval team and talk.