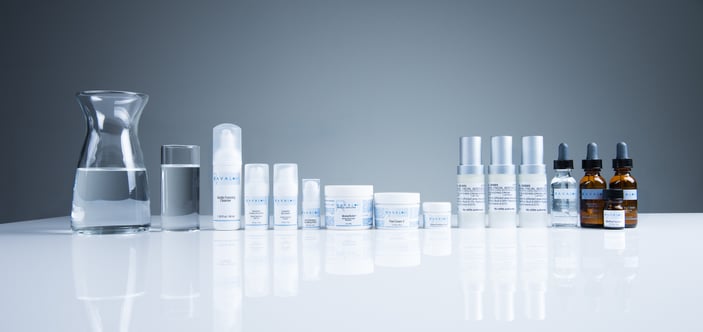 Raval Lightening Serum
Unique vehicle enhanced with Vitamin C, Kojic acid, Salicylic acid, and Green Tea. This serum is a cosmetically-elegant, quick-drying solution that is well tolerated. Retinoid-free, Steroid-free, Sulfite-free formula.
Antioxidant C & E Ferulic Serum
Antioxidant C & E Ferulic products are high-potency combinations of anti-oxidants with
a hydroxyacid, providing both short-term cutaneous micro-exfoliation and longer-term skin firming and protective benefits. In addition to stimulating collagen production, this compound provides anti-oxidant protective activity, inhibits lipid peroxidation and provides skin clarifying and brightening actions by lightening melanin granules.
Intense Moisture Cream
Combines ceramides, fatty acids and cholesterol that help restore the skin's natural moisture barrier. It is clinically proven to reduce dry, cracked, flakey skin compromised by procedures such as microdermabrasion, non-ablative light treatments and superficial chemical peels. Elegant, patented formulations can be used day or night and are fragrance and steroid-free.
Mattifying Face Lotion
100% oil-free moisturizer that helps restore normal barrier function for combination or blemish prone skin. Elegant, non-comedogenic, fragrance-free, paraben-free formula
B5 Hydrating Complex
A unique Hyaluronic acid-based gel designed to enhance skin moisture and reduce signs of photo aging. Water-based vehicle is oil-free, fragrance-free and non-comedogenic, appropriate for use under make-up, sunscreen or moisturizer, or as a light-weight moisturizer for acne-prone skin.
Raval Essential Eye Cream
A high-potency combination of ingredients specifically addressing the needs of the eye area, combining protective anti-oxidants, soothing emollients and firming peptides.
Raval Essential Night Cream
This cream is formulated with Retinoic Acid, Hydroquinone & Fluocinolone to treat melasma, freckles, and hyperpigmentation. It is available in three different strengths so it can be tailored to specific skin-care needs. This combination of ingredients has been shown to lighten or eliminate brown spots & improve the appearance of aging and sun damaged skin.