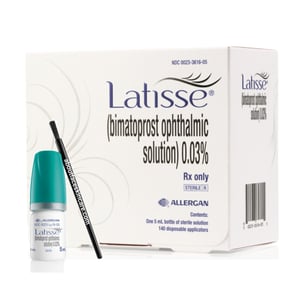 Lashes and eyebrows play a big role in defining our eyes – a major feature of our face. When lashes are too short or thin, it affects our entire facial appearance. LATISSE® is a prescription treatment specifically formulated to treat this condition, called hypotrichosis. With continued application of LATISSE® serum, your lashes will grow longer, thicker, and darker.
It's frustrating dealing with inadequate eyelashes. You can stick with your daily primer + mascara routine in the morning and makeup removal at night for the rest of your life. Or you could visit a salon or spa to get eyelash extensions – individual faux hairs affixed to individual lashes. But the process is tedious and time-consuming, expensive, and lasts only a month or so.
Or you can get real, natural results by using LATISSE® to promote regrowth of your own lashes. LATISSE® is available by prescription only. The key ingredient is bimatoprost, originally used to treat glaucoma and now used by medical professionals to regrow eyelashes and eyebrows.
HOW DOES IT WORK?
There are several causes of thinning lashes. The most common is aging. As we get older, our skin loses moisture, producing hormonal imbalances that reduce hair growth everywhere on our body, eyelashes included. Rubbing your eyes over time can damage lashes, as can leaving your makeup on overnight. Other triggers such as an eye infection, vitamin deficiency, or thyroid imbalance can also cause eyelash thinning.
No matter the cause, LATISSE® is proven to grow fuller, thicker, darker lashes. Interestingly, doctors and medical researchers aren't quite sure why LATISSE® works, though most believe bimatoprost may stimulate a longer hair growth cycle. In a clinical study:
Lash length increased by 25%

Lash thickness increased 106%

Lashes were 18% darker in color
LATISSE® is safe and effective, but it must be used precisely as prescribed in order to produce desired results and avoid potential problems. Once prescribed, you will receive a kit to take home. Then you will brush a tiny amount of the serum onto the base of your upper eyelashes each evening.
So about those eyebrows
Trends change, and the ultra-thin look that was so popular has been replaced by thicker, bolder brows.
LATISSE® can overcome past over-plucking to regrow fuller eyebrows. It is still considered "off label" for this, because it is FDA-approved only for treating eyelashes. However, it works in the same way and is just as safe for eyebrows, and patients report good results. Since hair growth is not only thicker but longer, you may have to trim your eyebrows a bit.
WHAT ABOUT RESULTS?
LATISSE® works gradually. Typically, patients start to see noticeably longer, thicker lashes after about four weeks, with maximum effect after about 16 weeks. You will continue to see results as long as you use the product, but stopping will cause your lashes to revert to their former appearance.
WHAT ARE THE RISKS?
LATISSE® is to be used only on upper eyelashes, not the lower eyelid. Inadvertent drips can cause hair growth around the eye. The most common side effect is red or itchy eyes, though even this has been reported only by about 4% of patients. Other even less common risks include brown iris pigmentation in light-eyed patients, which is permanent, and darkening of skin along the lash line, which persists with continued LATISSE® use but goes away if application is discontinued.
CHOOSE A MEDICAL PROFESSIONAL
LATISSE® is a medical treatment, not a cosmetic. At Rocky Mountain Laser Aesthetics, Dr. Jeffrey Raval and our Paramedical Aestheticians are all well-trained on the proper use of LATISSE®. We offer personal consultations in a comfortable, caring environment. With a short medical history and lash exam, we can help determine if LATISSE® is right for you.