Uh, oh. Your face is starting to look vaguely "older." You may not be seeing lines or wrinkles yet, but your face and/or neck are losing their youthful firmness. Starting to sag. There's a solution for that, and we're not talking about surgery. It's called a thread lift, and it is an injectable, in-office procedure.
Thread lifts are not a new concept, but new technology and new techniques have improved the concept so much that this formerly questionable procedure has now become a very viable, safe, and often preferable alternative. It can be ideal for those who are "in between" -- women and men for whom Botox and/or fillers aren't quite enough or do not work well, as well as those who are not ready for facelift surgery.


WHAT IS A THREAD LIFT?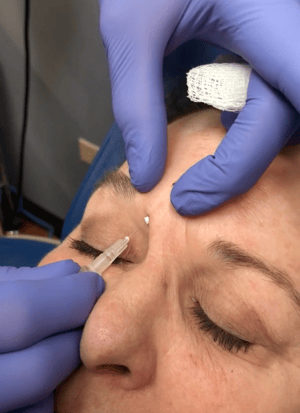 A surgical facelift or necklift literally repositions the underlying muscles and tissues as necessary and then removes excess skin for a tauter, younger look. Rather than cutting away, a thread lift works to stimulate rebuilding from within by triggering natural production of collagen and other structural skin elements. This is similar to many other minimally-invasive facial rejuvenation procedures such as microneedling, many types of laser treatments, and some types of chemical peels.
What's different with a thread lift is just what the name implies – a fine thread is inserted into sub-surface skin tissue, to give the rebuilding process an extra boost. Facial tissues see the thread as an "invasion" and set to work repairing the "wound" by producing new collagen, etc. The technical term for this process is Selective Inflammatory Response. But the thread also provides a "scaffold" that gives new cells greater support.
The thread Dr. Raval uses is surgical suture material called PDO (for polydioxanone) – the same product used by surgeons everywhere. It is one of the safest products available for use with the human body. It is also absorbable. For thread lift procedures, some styles of thread are made with tiny barbs along the line. Once in place, these barbs serve as anchors to hold the skin in its new, lifted position. They also give newly forming cells a place to congregate, adding volume for more youthful contours.
The suture material to be absorbed, your skin continues active rebuilding.


WHAT ARE THE BENEFITS OF A THREAD LIFT?
This procedure fits beautifully with Dr. Raval's philosophy of "less is more." If the loose, sagging skin you're starting to see does not warrant a surgical facelift, then a thread lift may be all you need to achieve noticeable but natural-looking improvement. This procedure can help correct both sagging skin (by lifting) and lost volume.
Patients love this option because of its multiple benefits:
Faster and minimally-invasive
More affordable solution
Minimal discomfort and downtime
Immediately visible results that last up to a year or more
No incisions, therefore no scars


WHAT DOES A THREAD LIFT PROCEDURE INVOLVE?
Dr. Raval will determine exactly where he wants to place each length of thread, drawing lines on the surface to serve as guides. The thread comes pre-loaded into a syringe similar to the kind used for dermal fillers. So Dr. Raval will insert the thin needle in the desired direction, then gently release the thread as he retracts the needle.
The thread may be placed as lines that follow contours or in a cross-cross pattern where more support is needed. The pattern he uses for you will be based on your desired results, skin condition and facial structure. A typical procedure takes somewhere between 20 and 60 minutes.


WHAT IS THE DOWNTIME WITH A THREAD LIFT?
You should not feel pain as your face heals, but you may have minor bruising at first. In some cases, Dr. Raval will prescribe a temporary facial wrap to give the treated area additional support. It is best to rest for a few days following thread lift. Dr. Raval usually recommends taking two days off work.


WHAT ARE THE RISKS OF A THREAD LIFT?
According to the American Society of Plastic Surgeons, there is "virtually no risk of scarring, severe bruising, bleeding or other complications after having a thread lift." That's the best news anyone wants to hear. However, rarely, patients have reported irritation or infection or that the suture have become visible. Of course, the best way to avoid post-procedure problems is to choose a highly-skilled medical provider who performs procedures in facilities that meet the highest clinical standards.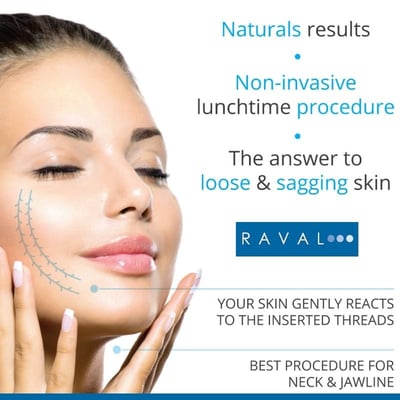 WHAT ABOUT THREAD LIFT RESULTS?
Like other absorbable options, thread lift is a repeatable procedure. As time passes, you may also find you want a thread lift to revitalize the appearance of a different part of your face or neck. Thread Lifts can also be used as a strategic companion to dermal fillers and/or Botox treatments.You will see some visible improvement right away after your thread lift procedure. Over the next few months, improvement in lift and/or volume will become more pronounced as your skin rebuilds from within. Results typically last at least a year. However, it should be noted that your skin will continue to age normally, which means collagen production will again decrease.
HOW WE USE THREAD LIFTS
Here at Raval Facial Aesthetics, Dr. Jeff Raval may recommend a thread lift to rejuvenate loose, sagging skin, tighten skin, and restore volume in the brow, mid-face, lower face (jowls and jawline), and/or the neck. Thread lift can be especially valuable for lifting the neck, as Botox and fillers don't perform well here.
To learn more about thread lifts and if this procedure is right for you, fill out the form on this page.