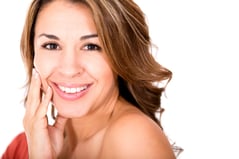 If you're looking for an immediate boost to your skin's overall condition and appearance, a light TCA peel could be right for you. The TCA chemical peel is a skin-resurfacing treatment that eliminates dead surface cells. Unlike other types of peels, TCA can be used to treat most skin types, producing vibrant results even on darker skin tones.
Here at Raval Facial Aesthetics, we only use TCA for light peels, not more than a 10-20% solution.
Although others may use stronger TCA solutions to reach deeper layers of skin, we believe the risks aren't worth the exposure. A light peel isn't painful, so it does not require sedation, and healing time is much shorter. With a stronger solution, it can be difficult to control results, and there is greater risk of uneven absorption, blistering and even possible scarring.
We want you to get the best possible results, but our #1 goal is always patient safety. There are other techniques such as laser treatments that can be used when more than a light peel is called for.
What is TCA?
Trichloroacetic acid (TCA) is non-toxic, chemically related to vinegar. It has been used to enhance skin surface appearance for more than 20 years. The acid dries the top layer of skin cells, which then peel away to reveal new fresh skin.
Who is a good candidate?
A light TCA peel can treat fine lines and wrinkles, sun damage, age spots or melasma (brownish patches), and in some cases, acne scars. It is most often used on the face, but can be used on other parts of the body such as the neck, chest, arms, or legs. It is appropriate for men and women, and as noted above, TCA is uniquely safe and effective for most skin types.
What does the procedure involve?
Each patient is different, so the first step is always a one-on-one consultation with one of Dr. Raval's specialists. This enables us to determine the best formula for you, based on your skin, medical history, and desired aesthetic results.
The procedure itself is comfortable and fast. We carefully cleanse the area to be treated, to make sure all oil is removed. This ensures even absorption of the TCA. We then apply the customized formula to your skin.
What results can I expect?
Immediately following your procedure, your skin will appear pinkish, as if flushed, but you can resume normal activities right away. Over the next few days, the upper layer of your skin will slough away, leaving a new surface that is smoother and has more even tone.
Because a light peel is meant to be a gentle, Dr. Raval may recommend more than one session to achieve optimal results.
It is very important to avoid sun exposure after your procedure, especially for the first few weeks, because your newly-revealed skin will be extra-sensitive. Of course, we recommend that you always protect your skin with high quality sunscreen whenever you venture outdoors here in Colorado.
What are the benefits of a light TCA peel?
The procedure not only produces immediate results, it stimulates your skin's natural production of collagen and elastin. So your skin texture will continue to improve well after your procedure.
Since the TCA peel uses a specially-concentrated acid to enhance the appearance of your skin, we can combine this treatment with other patient-specific, non-surgical procedures to create a treatment plan personalized just for you. And because follow-up is so important, we can provide you with skin care products that will help maintain your newly refreshed skin.