You've probably heard of platelet-rich plasma, or PRP. It has become increasingly popular among surgeons and medical aesthetic specialists as a stand-alone treatment and as a companion to other procedures. Here at Raval Facial Aesthetics, we use both PRP and its cousin PRFM (platelet-rich fibrin matrix), but we especially like PRP to augment microneedling treatments.
What is Platelet-rich Plasma?
The name sounds highly technical, but PRP is actually pretty simple. It is an entirely natural substance, derived from each patient's own blood so there is no risk of allergic reaction or similar side-effects. Platelets within the blood are responsible for delivering growth factors to specific sites in the body in order to stimulate healing. They spur formation of renewed blood supply and production of collagen and elastin that give the skin structure.
This ability to augment the healing process is what makes PRP so valuable for so many different types of procedures. It was initially used by orthopedic surgeons to help athletes and others recover faster from joint injuries or surgery. However, once the broader medical community saw the benefits, use of PRP spread to other specialties. So now our patients here at Raval Facial Aesthetics can benefit from its healing power, too.
PRP is a Natural Companion for Microneedling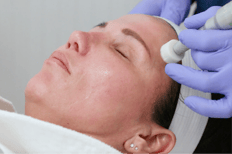 Microneedling is a treatment that helps improve the appearance of fine lines and wrinkles and acne scars as well as other skin imperfections, on the face or other parts of the body. The procedure uses miniscule surgical steel needles to precisely prick the skin. Dr. Raval can adjust the depth depending on your skin condition and desired outcome.
Your body recognizes those needle pricks as "injuries" and sets to work healing them. As new cells are created, patients see smoother, more youthful looking skin. The microneedling tool is small – it looks something like an oversized pen -- so it's very agile. It can be used to treat very small or hard-to-reach areas such as around the nostrils, and it can be used to treat large areas such as the shoulders or back.
The PRP Process Is Simple
At the beginning of your microneedling appointment, we will draw a small blood sample. Then you can relax for a few minutes while we spin the sample in our centrifuge to separate the platelets from the red and white blood cells. Once that is done, the resulting concentration – our platelet-rich plasma – is ready to be used.
For other types of procedures, we inject PRP directly into the target treatment site. However, for microneedling, after very tiny needles prick your skin, we apply the plasma onto the skin surface which soaks into the needle pricks and surface area to assist with healing.
As noted above, we also use platelet-rich fibrin matrix for some procedures. We like to say that PRFM is PRP with turbo-boost. PRFM continues to work in the body for up to a week, whereas PRP lasts just one day. For microneedling, though, that one day is all we need to speed recovery and enhance results, because the microneedling procedure itself is designed to stimulate the same healing process.
By combining PRP with microneedling, we are able to give you even more impressive skin rejuvenation results, faster.