What is a Glycolic peel?
The glycolic acid peel has been a tried-and-trusted cosmetic procedure for many years because it is gentle, individually-crafted, and effective in treating a variety of barriers to beautiful skin. When consulting our cosmetic technicians, the concentration of the glycolic peel is optimized for each client, desired result, and skin type. In the care of such technicians, glycolic peels gently remove dead skin cells, diminish scars, treat wrinkles and fine lines, and moderate discoloration and skin damage. Our office consults each patient to determine the best concentration and treatment cycle for them.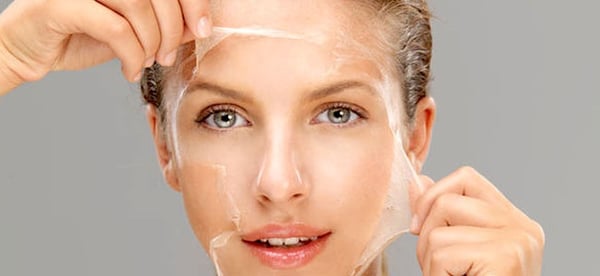 What are the benefits and effects of a Glycolic peel?
Glycolic peels treat a variety of signs of aging and general skin concerns, like scars, wrinkles, lines, hyper-pigmentation, and sun damage. The glycolic peel removes dead skin cells and stimulates your skin's natural production of elastin and collagen. That means you enjoy instant results that continue (through 1–% natural repair of collagen and elastin) to benefit you and the appearance of your skin. As our care-centered office of specialists attend to your unique needs, your glycolic peel is specially formulated for you to receive the most comfortable and result-rich treatment.
As the glycolic peel uses a gentle acid for its beauty-enhancing results, you can combine your specially-formulated glycolic treatment with other non-surgical procedures and skin-care products to help maintain your renewed skin.

How does a Glycolic peel work?
After consultation with one of Dr. Raval's specialists, patients are treated with their unique formula, which gently removes a superficial or deeper layer of dead or troubled skin—according to your desired results and unique formula. After the short treatment, patients watch the transformation as dead skin peels away to reveal the youthful, smooth skin beneath.
The procedure, results, and side effects are patient-specific, which is why each patient receives individual consultation about their needs, goals, and medical history.

Does Rocky Mountain Laser Aesthetics have any special offers?
The best way to learn about offers is by liking our Facebook page. You can hear about our Denver deals and promotions instantly, and stay in touch with the Raval family as one of our close patients.