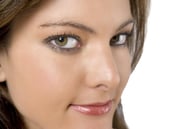 Which treatments or skin products should you choose to improve your skin's health and appearance? What's best for someone else isn't necessarily best for you. At Rocky Mountain Laser Aesthetics we always schedule a personal consultation with new patients, so we can learn more about you and your skin before making recommendations. VISIA Complexion Analysis is a key part of that consultation.
We offer this personalized skin assessment as a complementary benefit for every new patient because it helps us and you develop the best possible treatment plan. VISIA analysis helps whether you want to correct visible signs of aging, spider veins, hyperpigmentation, etc., or rejuvenate your overall appearance.
What is VISIA Complexion Analysis?
This system is a safe and painless technology tool we use to examine your skin. It uses UV photography to digitally map and record minute variations in your skin, both on and below the surface. That includes conditions such as:
Spots
Wrinkles
Texture
Pores
Sun damage
Brown spots
Red areas
The VISIA imaging module rotates so it can map your face from the left, right, and front. Then the advanced software classifies your skin type and compares your skin's condition to a database of thousands of other patients.
Why is VISIA so important?
By performing a VISIA Complexion Analysis for each new patient, we are able to provide the most effective, individually-tailored skin treatments.
With their advanced training and extensive experience, Dr. Raval and our Paramedical Aestheticians can learn a great deal by examining your skin. Using the VISIA system allows us to further enhance our evaluation and diagnosis because it enables us to see what the naked eye cannot. That data enables us to recommend the best possible treatment procedures and/or skin care products for you.
During your consultation, we will print out a report of the VISIA analysis, so we can review it with you. You will see your skin's condition first-hand, in greater detail and depth than you see in the mirror. That makes it easier for Dr. Raval and his team to explain the specific recommendations we're making. We also use VISIA imaging and reports as an ongoing tool to monitor your treatment progress.
Optimal skin treatment starts with VISIA Complexion Analysis
Now that you know about the VISIA system and why we use it, aren't you excited to see what it says about your skin?