Restylane Lyft is

a non-surgical, highly effective, versatile treatment to smooth facial wrinkles. It

is produced by Galderma and belongs to the family of

Restylane fillers

. It is the first and only approved filler which can be used to treat both smile lines as well as the mid face area.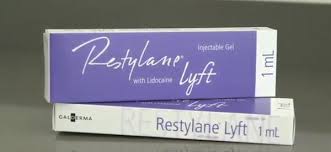 HOW RESTYLANE LYFT TREATMENTS WORK
By injecting Restylane Lyft, more than 200 clinical trial patients saw improved fullness in the midface and cheek areas. After treatment, 95% of patients reported improvement at 2 months, and their improvement continued for up to 12 months. Restylane® Lyft provides patients a viable option when they desire lift and volume in their cheeks.
To maintain results, Dr. Raval always recommends patients plan repeat treatments from an experienced injector spaced over a period of several months. Safe, scheduled injections allow patients to see continued improvement.
find out if RESTYLANE LYFT is right for you
To learn more, call our office at (303) 381-3223.