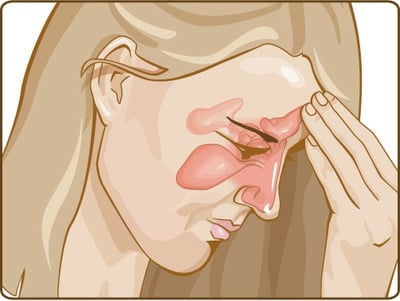 When you hear "nose job," most people think of cosmetic surgery that changes the shape of your nose. But nose surgery, or rhinoplasty, can also correct internal structural problems so you can breathe better. Nasal valve surgery can be combined with a cosmetic procedure, if desired, achieving two goals at once.
What can nasal valve surgery do for you?
The purpose of nasal airway surgery is to correct moderate to severe breathing problems by opening blocked air passages. Deviated septum (the central structure of your nose) and collapsed valve (the lower part of each nostril) can both restrict your ability to breathe normally, as can other less common malformations. These problems can occur as a congenital defect, or as the result of an accident or injury such as broken nose.
You may experience:
Difficulty breathing through one or both nostrils

Painful breathing

Snoring

Inability to sleep

Difficulty breathing with strenuous exercise
Patients with a collapsed valve often see external symptoms, too, with nostril(s) that have a visible, caved-in appearance. All these symptoms are frustrating, to say the least. But the problem can be fixed. A septoplasty and/or nasal valve reconstruction can provide long-term functional improvement.
You're a good candidate if you're old enough that your face has stopped growing, in good general health, and are a non-smoker.
What the procedure entails
Every patient is different, so nasal valve surgery is a customized procedure. For example, to repair a deviated septum, the surgeon will re-sculpt bone and/or cartilage and reduce any projections that restrict breathing, to straighten the internal nose structure. Incisions are minimal and typically made inside the nose.
Surgery is performed as an outpatient procedure, so there is no need to stay in a hospital overnight. Dr. Jeffrey Raval performs all his rhinoplasty surgeries in a top-level medical surgical center, using general anesthesia to ensure patient safety and comfort.
How long the surgery takes depends on exactly what needs to be done. Afterward, patients spend about an hour in recovery and can then go home. Depending on the details of your procedure, you'll be told how to prepare and what to do in the days and weeks following your reconstructive surgery. You'll probably be off work for a couple of weeks.
Choose the right surgeon
As with any surgery, it is essential to pick a surgeon you trust and who makes you feel comfortable. Your "gut" may tell you when you've met the right surgeon, but start by looking for candidates that have extensive training and experience with your type of nasal surgery.
Dr. Jeffrey Raval is double board-certified, by the American Board of Otolaryngology (Head and Neck Surgery) and the American Board of Facial Plastic and Reconstructive Surgery. He specializes in rhinoplasty. He treats patients from all around the country as well as here in the Denver area. And the numerous accolades he has received attest to his skill as a surgeon and his commitment to personalized patient care.


Nasal valve surgery can give you a better night's sleep. Why wait any longer? Scheduling a personal consultation with Dr. Raval will give you a chance to meet him in person, ask questions, and learn if this surgery is right for you.