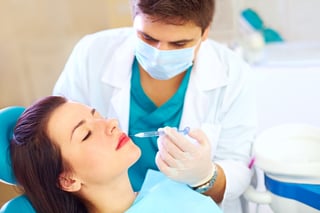 Lips are looming large when it comes to the most popular cosmetic enhancement procedures. Our very own Dr. Jeff Raval says patients are requesting lip augmentation treatments in record numbers. And it's not just here in Denver. According to the American Society of Plastic Surgeons (ASPS), since 2000, lip procedures have become the second-fastest-growing facial cosmetic procedure. (Dermabrasion is number one.)
In 2014, the ASPS says minimally invasive treatments and surgical procedures totaled 15.6 million cosmetic procedures in the United States. That was 3% more than in 2013. They say "the demand for plastic surgery continues to grow as medical advancements are made and technology improves resulting in a wider array of options for patients."
The numbers bear that out.
The ASPS says the number of lip enhancement procedures performed nationwide increased by 5% just in 2015. That's up 50% since 2000. And it isn't only women interested in modifying their lips. Men underwent about 1,200 lip procedures in 2015. The ASPS says that is a 400% increase since 2000.
Steady rise in lip injections
Lip implants accounted for 27,400 procedures in 2015. That's a 48% increase since 2000. Nonetheless, Dr. Raval does not offer implants. He says they have a high risk of migration and infection. Instead, he offers dermal fillers and also injectables such as Botox and Dysport to treat patients. Almost 9.2 million lip injections were performed in 2015. That is a whopping 1000% increase since 2000.
Botox and Dysport are injectable solutions used to reduce wrinkles and give lips a more youthful appearance. Both products can be used to treat wrinkles in other facial areas as well. Dermal fillers also help reduce wrinkles in soft tissues such as the lips and around the eyes and nose.
Why lips?
Many people are using lip augmentation as a first step to try out cosmetic enhancement. Botox, Dysport and dermal fillers offer temporary results, usually lasting a few months. That gives patients time to decide if they like their new look. If so, they can continue to get periodic treatments. If not, their lips will simply return to normal.
Older adults want to erase signs of aging. Because injectables and dermal fillers give lips a plumper look, they are also popular with younger patients, many of whom want to emulate their favorite celebrities.
The American Society of Plastic Surgeons actually surveyed 1000 women across the country, to learn which celebrity's lips they wanted most. Jennifer Lawrence, Scarlett Johansson and Jennifer Garner were the top three. But Kylie Jenner also made the list. She is often credited with doing the most to publicize lip augmentation, through social media.
The ASPS says patients are seeking results that range from "very natural looking" to "dramatic." And some patients are asking for lip reduction rather than augmentation. But plastic surgeons warn that any type of lip enhancements is a serious procedure that should be performed only by trained, experienced medical professionals.
Want to learn more about the possibility of enhancing your lips? We recommend you schedule a consultation with Dr. Jeff Raval.