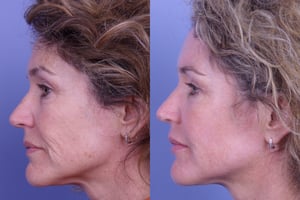 In the last year or so, technical refinements in laser technology have netted extraordinary advances in laser treatments. Besides increased accuracy, markedly fewer side effects and reduced recovery times, top-of-the-line lasers with their modular and easy-to-upgrade components are preferred by aestheticians and surgeons for virtually every kind of treatment from minor cosmetic procedures to major surgery. Besides using lasers for hair, vein and tattoo removal, today's lasers are nearly indispensable in more complex surgical procedures such as facelifts.
According to Rocky Mountain Laser Aesthetics Coordinator Jessica Santi, two exceptional new lasers have been added to the inventory of 9 existing lasers at the clinic. These two systems-the Sciton IPL and the Cynosure-offer the best technology on the market today.
Lasers work by concentrating light into a very small, intense beam that can be focused to precise depths of penetration (think fractions of millimeters) and to highly specific areas (think nearly imperceptible blood vessels). They range from very hot, high-intensity beams, the type used in surgery, to the more gentle and diffuse coverage typically used for superficial skin treatments. The Sciton IPL and Cynosure lasers we use come with laser tips that function at highly specific depths and speeds for optimum treatment of different areas of the body and skin's surface.
One of the more important qualities in a medical laser system is its adaptability to treat different parts of the body effectively and its ability to be upgraded as new technologies arise. This characteristic has the further benefit of allowing the Rocky Mountain Laser Aesthetics to bring the latest technology to patients at a significantly lower cost than would be necessary if having to continually replace entire systems.
Laser skin care treatments offered at the Rocky Mountain Laser Aesthetics can be accomplished with little or no anesthesia, are virtually pain-free, and allow the patient to be back to work or play same day. And an added benefit of laser treatments is that they stimulate the manufacture of collagen in the area being treated, leaving patients with a younger, fresher looking complexion.
Sciton Laser built to treat a variety of skin types and conditions
The Sciton laser incorporates modular, upgradeable components that offer a variety of adaptations. It is the system most often used at the Rocky Mountain Laser Aesthetics for skin repair and rejuvenation procedures such as removal of redness and sunspots and skin tightening. This same laser has applications for treatments as varied as high-speed hair removal, tattoo removal, spider vein treatment and rejuvenating facial micro laser peels. Unlike most lasers that distribute energy unevenly, resulting in hot spots that can cause unnecessary burning and cold spots where treatment is ineffective, the Sciton is designed to deliver even beams to all areas of treatment. Its large-area pattern generator (LAPG) and flat-top laser beam profile with built-in extended skin cooling results in more comfortable and effective treatments of every sort.
The Sciton Profile/BBL (broad beam light source) is the world's highest performance pulsed-light system. Its interchangeable filters allow us to treat a wide variety of conditions with a single device resulting in faster, more economical solutions for a variety of skin care needs.
Removing hair from large areas such as arms, back and legs used to be a tedious process due to then-lasers' small coverage area. The Sciton Laser's Clear Scan Large Area Pattern Generator (LAPG) allows a much larger area than all previous lasers to be treated in a single stroke, resulting in faster, more comfortable, more precise and predictable hair removal from these parts of the body.
The Sciton's MicroLaserPeelT module is a preferred alternative to chemical peels because the laser can be handled with greater precision resulting in a more even peel to an exacting depth vs. the random and uneven penetration of some chemical peels of the past.
The Sciton Vascular Module is used to treat facial and spider veins and its many tips make it adaptable to use on all skin types and conditions. Faster, more accurate, and more economical than prior iterations of vein removal, the Sciton laser has been ranked number one in industry patient test groups.
According to Dr. Jeffrey Raval, Sciton's adaptable design and the company's commitment to technological innovation make the Sciton system an important and cost-effective tool in offering the clinic's patients the best skin care available.
www.sciton.com
Cynosure Laser is the cool new laser in our office
Since 1991, Cynosure's award-winning technicians have developed a whole menu of lasers and light sources in their product line suited to medical and aesthetic use. That's why they coined the phrase: Where Art and Science Meet.
At the Rocky Mountain Laser Aesthetics, the Cynosure laser is principally used for laser hair removal, but also has specific applications for skin treatments including laser removal of veins, birthmarks, scars, stretch marks, redness and pigmented lesions. One of the Cynosure technologies, Continual Apex Pulse Technology (CAPT), is used in microthermal rejuvenation to treat conditions such as wrinkles, acne, and scar reduction in as few as three treatments. This patented CAPT technology rejuvenates the skin by treating wrinkles, pigmentation, veins and the blush of rosacea. Through precise thermal manipulation of the epidermal and dermal tissue, it promotes skin tightening and collagen production throughout the entire treatment area.
The Apogee Elite contains two laser systems - a 755 nm Alexandrite laser for skin types I-IV and a high powered 1064 Nd:YAG laser for skin types V-VI and tanned skin-in one convenient unit. The Elite offers the most optimal wavelengths for:
Pigmented Lesions
Treatment of Sun-Damaged Skin
Its waves are highly absorbed by melanin, providing superior efficiency in the removal of unwanted hair and epidermal pigmented lesions resulting in:
80% permanent hair reduction after only four treatments.
Treatment of a variety of skin types.
Faster, more effective treatments.
It is also quite effective in treating epidermal pigmented lesions such as age spots, sun spots and freckles through customized short pulse durations.
The XPL laser effectively eradicates dyschromia or skin discoloration, a common condition associated with aging skin. It targets superficial pigment, veins and the blush of rosacea associated with sun-damaged skin. This revolutionary technology does not require the use of messy gels or lotions thereby increasing patient comfort and lessening treatment time. Combined with Cynosure's SmartCoolT air cooling system, treatment is virtually painless.
http://www.cynosurelaser.com