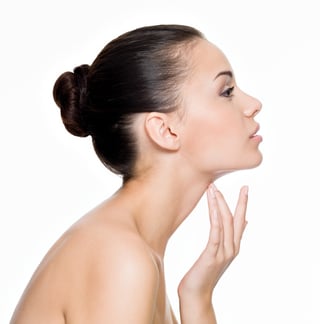 Have you heard about Kybella? This new cosmetic procedure is aimed specifically at reducing double chin in men and women. Kybella is an injectable, so it is performed as an in-office treatment. It is the only alternative to surgery or liposuction for removing fat under the chin. For the right person, it can be quite effective, but it is not the best choice for everyone.
Each treatment consists of a series of injections into the target area, to dissolve fat under the chin. The area is numbed first, and ice is applied following the injections to reduce potential swelling. Because he is so highly respected within the cosmetic surgery community, our own Dr. Jeff Raval has been invited to become a Kybella trainer, teaching other surgeons how to perfect their technique.
Younger patients are better candidates for Kybella
Kybella can be a great choice if:
Your goal is to dissolve some fat under your chin line

You're young enough that your skin exhibits good tightness

You do not want surgery
This procedure removes fat, but it does not tighten skin. For this reason, it works best on individuals who have no skin laxity. In younger patients – say a 30-40 year-olds -- skin will tighten following the procedure. As we age, our skin loses its elasticity, so Kybella will not produce desired results. Instead, removing fat and then tightening or removing excess skin is much more effective.

Options other than Kybella
If you have a significant amount of fat and you are open to surgery, there are several options you may consider to address your double chin:
Liposuction removes fat.

A lipectomy involves a slightly larger incision, which enables the surgeon to directly see fat and cut it out, producing better-targeted results.

During a lipectomy, your surgeon can also tighten the neck muscles just below the skin.

A neck lift can do even more.
These are all outpatient surgeries, though you'll have some down time. You might also choose to get a full face lift or mini-lift. In a full face lift, all facial and neck skin is raised, excess fat is removed and neck muscles are tightened. A mini-lift involves the face but not the neck. It can also provide beautiful, natural-looking results, but with less down time.
Any of these options will give you "one and done" results, whereas Kybella requires multiple treatments. Each one is spaced about two months apart, so your regimen could last as long as a year if 5 or 6 treatments are needed. Dr. Jeff Raval says the best results he has seen have occurred in patients who only required one or two treatments because they didn't have much fat.
Kybella is also quite expensive. At about $1200 per treatment, it can quickly add up to more than the cost of facial surgery, which runs around $5000.
Here at Raval Facial Aesthetics, we believe the best approach should be both effective and affordable. Dr. Raval occasionally advises patients that simply losing some weight may reduce their double chin. On the other hand, weight loss cannot always "cure" a double chin. Genetics can cause an otherwise slim person to have a "weaker" chin structure, which shows a double chin even at a relatively young age.
Ultimately, this is a very personal decision, and everyone's face is different. An in-person consultation is the only way your surgeon can give you the most appropriate recommendation to reduce your double chin.