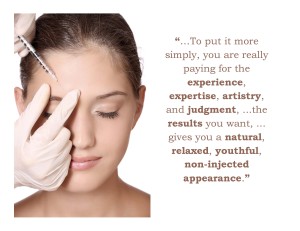 The decision to get Botox or Dysport is a big one. You know the aesthetic benefits are great, but you must have other questions on your mind. We have 5 things you should know before you book your appointment.
1. Make sure you research your doctor. There are many providers who can inject but haven't been properly trained. Imagine… a psychiatrist, a dentist, an untrained nurse are all legally able to inject Botox or Dysport. Go to someone who does it regularly and often! It's your face!
2. Cost. Sure, Groupon might be running a 50% off sale for Botox with a spa down the road. But is your appearance really something you want to get on sale? Sometimes paying a little more is the better in order to work with a Dr. that really knows what he or she is doing!
3. What are the side effects you might experience? Know before you go! Common side effects include bruising and swelling. If you're throwing your annual holiday bash tonight, you might want to wait until tomorrow.
4. Speaking of that holiday party and wanting to look your best, getting injected two days before the celebration isn't going to raise those eyebrows in time. Botox can take up to 7 days to fully kick in. Plan ahead!
5. We all know that Botox can shave years off your appearance by smoothing out wrinkles and getting rid of those frown lines. But, it can be expensive. Here is some great news: getting your Botox or Dysport now, can actually save you money later! When your muscles can't crease your skin over time, those wrinkles don't set in and become deeper every year. Get ahead of the curveball and avoid wrinkles now!