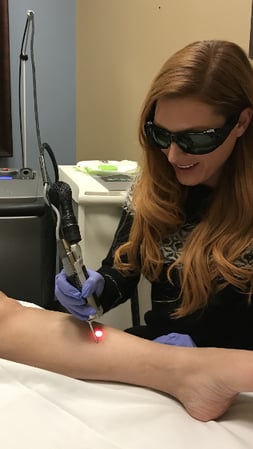 One of the many benefits of laser hair removal is that it is not painful. Most men and women that choose this procedure say that, when the laser is working, it feels something like being snapped with a rubber band. Now, you wouldn't go around asking people to snap you with a rubber band, but let's be honest – it doesn't really hurt. What's truly painful is all that rigmarole you're going through now to get rid of unwanted or excessive hair:
Tweezing can give you a headache, as you cross your eyes trying to locate and snare those errant hairs.
Shaving gives you nicks and cuts, razor burn, ingrown hairs, and – all too soon – stubble. Yes, stubble is hot for guys these days, but it has to be artistic stubble, not just you-need-a-shave stubble. Even if you have a mustache and beard, you still have to shave.
Depilatory creams may not be painful, but they are messy and don't work very well. Neither do all the other goofy products you can buy over the counter.
And waxing – now that hurts.
What else hurts?
Have you ever stopped to consider how much of your life you're giving over to getting rid of hair you don't want? Or fretting over excessive hair? It's only a few minutes a day, or an appointment every few weeks, right? Except that you have to do it over and over and over . . . That takes a painful bite out of your time, something that's in short supply for most of us these days.

Couldn't you be doing something more productive with that time? Something more fun?

And have you ever stopped to consider how much money you're spending to get rid of hair you don't want? Just like the time you spend, the cost creeps up on you, too. Shaving or other "perishable" supplies, waxing appointments, etc. Add it up. Ouch.

Couldn't you be doing something more productive with that money? Something more fun?

There is a simple cure for all this pain: laser hair removal. We can use this procedure to help you get rid of unwanted or excessive hair anywhere on your body. Anywhere.
Patients say it is so "WORTH IT!"
Laser hair removal is one of the most-requested procedures, from both men and women. And 94% of those who have rated the procedure on RealSelf say it was totally worth it. Treatments are not only relatively painless, they are fast, safe, and effective. And, finally, you can get long-term results. We like to say those results are permanent, but there is a chance a few hairs will reappear at some point in the future. No sweat, as they say. A quick refresher treatment, and they're gone.

It does take more than one session to get optimal results from laser hair removal. Here's why. The laser targets actively growing follicles, beaming an intense pinpoint of light into the pigment. That kills the follicle, so it stops producing hairs. But our hair grows in cycles – a sort of round robin of replenishment -- so some are resting while others are growing. (If they were all resting at the same time, you'd be bald.)

So you'll need somewhere between 3 and 7 sessions to catch all the follicles at their prime time. But, remember, we mentioned the treatments are fast. Super-fast. We can treat an area the size of a quarter in about one second. For your whole back, it might take up to an hour. Definitely no pain in the convenience department. You could even zip in on your lunch hour.
So let's review if laser hair removal is painful
You could continue tweezing, shaving, waxing, or scouring the aisles for the Next Best Thing hair removal product. But you know the saying: if you keep doing what you've been doing, you'll keep getting the same result. Now that hurts. It's time for a new approach -- time to find out of you are a good candidate for laser hair removal.