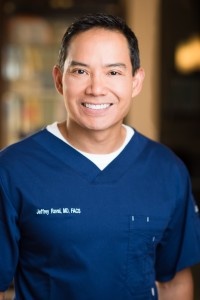 We are pleased to announce that Dr. Raval has received yet another professional award – Top Doctor designation on RealSelf. Fewer than 10% of doctors who participate in the RealSelf doctor community ever achieve Top Doctor status.
As an online platform, RealSelf has also risen to the top. It is now considered a go-to resource for women and men considering plastic surgery or cosmetic enhancement procedures. On the site, anyone can post specific diagnostic or treatment questions and receive answers from appropriately-experienced medical professionals. Site visitors can learn from other people's questions and answers and read detailed accounts of their personal experiences, posted by actual patients.
RealSelf says Top Doctors are the ones who most closely share the platform's mission "to empower patients with reliable information." To achieve this special designation, doctors must actively participate as consumer educators, volunteering to answer users' questions frequently and on an ongoing basis. In addition, they must earn positive votes on their answers as well as above-average patient reviews for their medical services.
RealSelf especially applauds the "transparency" of doctors who encourage patients to post unbiased reviews and ratings.
Patients agree that Dr. Raval is a Top Doc
A quick glance at Dr. Raval's biography proves accolades are nothing new for him or his practice. Dr. Raval has been repeatedly honored by patients, medical colleagues, and the greater Denver community for his outstanding skill, comfortable demeanor, and community support. While there are several online sources where you can read great reviews about Raval Facial Aesthetics, Rocky Mountain Laser Aesthetics, and Dr. Raval himself, here are comments some of his patients have posted on RealSelf: ·
"Love this Doctor!! I talk non stop to friends and family about how skilled and talented Dr. Jeffrey Raval is." ·

"Simply put, he is wonderful to work with, great at answering questions, and very skilled . . . no cookie-cutter plastic surgery will be found here, but instead a unique approach" to each patient's aesthetic needs and goals."

"I like how he can tell you what will give you the biggest bang for your buck." ·

"He and his staff are extremely professional and wonderful to work with from the first consultation to his amazing follow-up."
Want to know more about how Dr. Raval can help you achieve your facial aesthetic goals? It's as easy as scheduling a personal consultation.