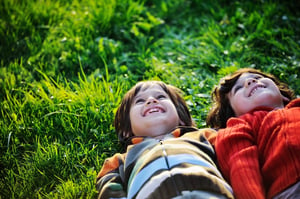 Parents do never-ending battle with germs. We protect our infants and young children as best we can from exposure to viruses, dust and even pet dander. Even so, kids get sick. We respond by rushing them to the doctor at the first sign of a cold, hoping to minimize our child's down time.
We do this because we've been taught that germs are bad and cleanliness is good. But there's another school of thought that opposes this sterile, bubble-boy mentality. And it's a surprise to most neat-nicks.
Called the Hygiene Hypothesis, this quick study acknowledged that there is higher evidence of allergies in children raised in developed countries. In fact, we're seeing more and more kids develop allergies than ever before.
The Hygiene Hypothesis suggests that during the critical first year of an infant's life that we can actually keep a child in a too-clean environment. The study performed by an associate and friend of mine, L. Keoki Williams, M.D. M.P.H., at Henry Ford Hospital in Detroit, looked at the medical charts of 835 kids for incidents of allergies. The kids who had no fever during their first year of life developed more allergies later on than did the kids who did have a fever within the first 12 months of lift.
Another study showed that oldest children, only children, and children who are not exposed to daycare or pets, were more likely to develop allergies or asthma later on. On the other hand, kids that grew up with pets and older siblings and attended daycare had fewer allergies.
To summarize the studies, it could be that exposure to germs—microbes and pathogens—during the first critical year helps to build resistance or immunity to allergies or asthma in later life.
In January, I had the opportunity to spend two weeks in Cambodia with Christian Medical Ministry performing ENT and plastic surgery on local patients and training native plastic surgeons. Of course, in this relatively underdeveloped country, treatment of allergies and asthma are not high a high priority. Instead, Cambodian parents are concerned with sheer survival and issues like putting food on the table.
But it does put the American focus on cleanliness into new perspective. That's not to say we should forego hand-washing, the way germs are most readily transmitted, but parents might want to reconsider the significance that exposure to other children and the world at large plays on their children's future health.
Jeffrey Raval, MD is a graduate of the University of Michigan Medical School and did his residency and internship at the Department of Otolaryngology at Washington University Barnes Jewish Hospital. He completed his fellowship in Facial Plastic and Reconstructive Surgery in the Department of Otolaryngology, is double board certified by the American Board of Facial Plastic Surgery and Otolaryngology/Head and Neck Surgery. He is Section Head of Otolaryngology at Swedish Hospital in Englewood and is the Medical Director of Matrix Spa in Denver. His is a practicing partner at Associates of Otolaryngology with offices at Harvard Park Medical Center and in Lone Tree and volunteers at Denver Inner City Health. He can be reached at 303.744.1961.