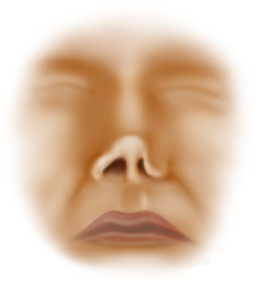 The structure of your nasal airways and sinuses largely determines whether you're breathing deeply and easily—or troubled by inflammation, mucus, pain or illness. According to the Center for Disease Control, nearly 30 million suffer sinus infections and breathing problems from allergies, pollutants, and structural issues in the nasal cavity. One such issue is a deviated septum, which affects 80% of people by injury or genetics. Such nasal-structural issues can decrease your quality of life through recurrent symptoms, like headaches, congestion, mucus, coughing, sore throats, fatigue, and even bad breath.
Medical authorities, like the Center for Disease Control, advise medical attention and treatment if there are symptoms for more than 10 days or multiple times in the same year. While antibiotics won't help if your symptoms are caused by the structure of the nasal cavity, rather than your environment, there are options to enhance your health, appearance and quality of life by improving your breathing.
Surgeries like septoplasty and rhinoplasty can open up your airways, correct blockages, and improve overall facial aesthetics. A septoplasty procedure straightens the nasal septum, which separates the two nasal cavities in your nose. On the other hand, rhinoplasty both corrects and restructures the form of the nose through open surgery or the non-invasive injection of fillers. For those who value youthful health and beauty, a rhinoplasty can give you the vital boost of preventive care and renewed appearance after the short period of post-op care.
After careful research, find the right surgeon who provides award-winning treatment in a close-knit, familial environment. In reaching your optimal health and beauty, the best environment is one in which you can breathe.