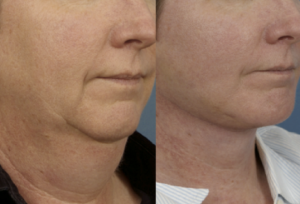 The mini facelift is slightly different from the classic surgical facelift as we know it, from several different points of view. The patient is awake during the procedure (which can last anywhere between 30 and 90 minutes), the intervention involves minimal downtime and the results will be visible right after the surgery. However, the main difference is that while the general facelift has permanent results, the mini facelift (commonly referred to as the "Lunch Hour Facelift" or the "Weekend Facelift") has results that typically last up to 10 years.
This type of facelift is ideal for those who experience minor signs of aging, yet who do not want to wait until they become more visible. The weekend facelift is ideal for reducing minor sagging skin, while the normal facelift works for loose skin and sagging skin all over the face, not just on specific areas.
A Closer Look At The Risks And Benefits Of The Mini Facelift
The lunch hour facelift has a series of notable benefits: not only is it considerably cheaper than the regular facelift, but it also has fewer risks. Some of the potential complications of the mini facelift include bruising, scarring, temporary swelling or bleeding, while the regular facelift also carries the risk of nerve damage or skin necrosis. However, given the fact that both facelifts are surgical interventions, they both pose the risk of infection, which can be dramatically minimized with correct medication and proper aftercare. Some patients who undergo a mini facelift may also experience temporary numbness and discomfort for several days following the surgery.
Another notable benefit is that patients can return to work several days after the surgery, this is why many patients choose to have the mini facelift done on Friday. This is an outpatient procedure that can be easily combined with other cosmetic surgeries for enhanced results, such as a forehead lift or a brow lift.