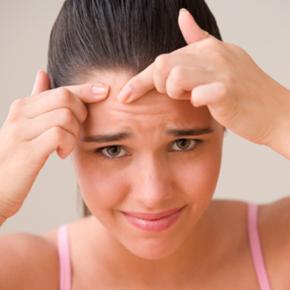 It preys on teenagers. It preys on young adults. It even preys on women in their 40's. ACNE. No one likes you! People young and old are constantly in search of a solution.
Visits to the dermatologist might arm you with topical creams, antibiotics, lotions, cleansers, & astringents. Put it all together, and you end up with dry skin too!
While certain creams and medications work for some people, not everyone responds to them. For those that can't get relief from anything else, and for those that want to combine their current regimen with additional treatments, lasers are just the answer!
FDA approved BLU-U is a blue light photodynamic therapy used to control moderate acne. It can kill the p. acne bacteria in your skin.
Treatments are quite simple. You sit with your face close to the BLU-U light for a 15-minute session once or twice a week, for up to 5 weeks. It treats the tiny glands called sebaceous glands that lie just beneath the surface of the skin. When these glands get clogged, pimples form on the skin. The BLU-U helps to unclog the glands, helping to clear the acne. It is a safe treatment that is not at all painful.
So remember when you or a loved one are battling this beast that there are more options out there for you!